Cowgirls with the Win!!! Final Cowgirls 57 Morton 26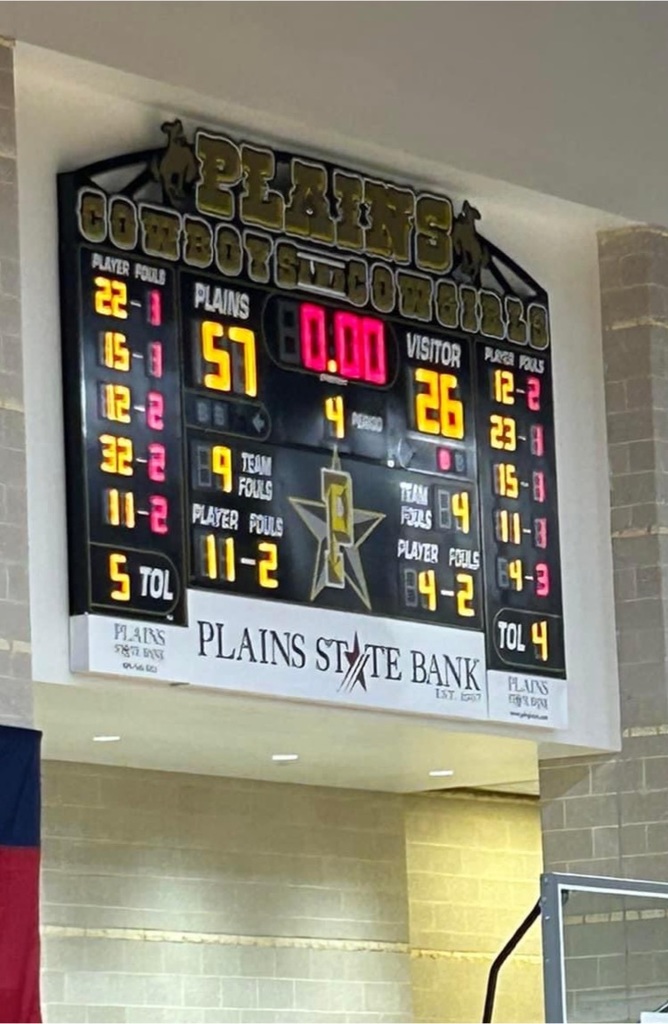 The middle school calculator team competed in the virtual challenge meet and placed 3rd in the state! We are very proud of their hard work!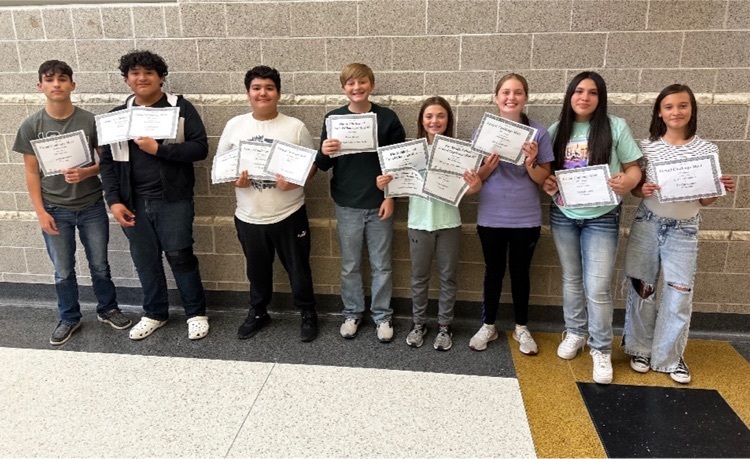 Semester Final schedule for 5th-12th grade starting Dec 14th - Dec 16th.

School calendar change. On Dec 16th, Plains ISD has changed the day to a half day early release at noon. Next Friday, December 16th early release at noon.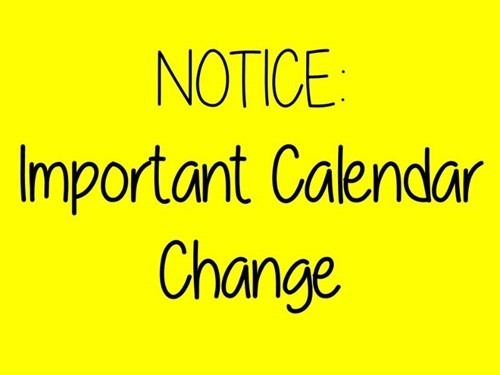 Our results for the CenTex journalism meet are in!!! There were almost 2,600 entries divided into 23 divisions. News Writing: Kate Franklin - 1st Mallory Bunch - 5th Isabel Posadas - 10th Feature Writing: Kate - 1st Mallory - 5th Libby Bell - 6th Isabel - 9th Editorial Writing: Matias Aguilar - 3rd Isabel - 4th Kate - 7th Rocky Garcia - 9th Headline Writing: Kate - 3rd Matias - 8th Mallory - 9th Isabel - 10th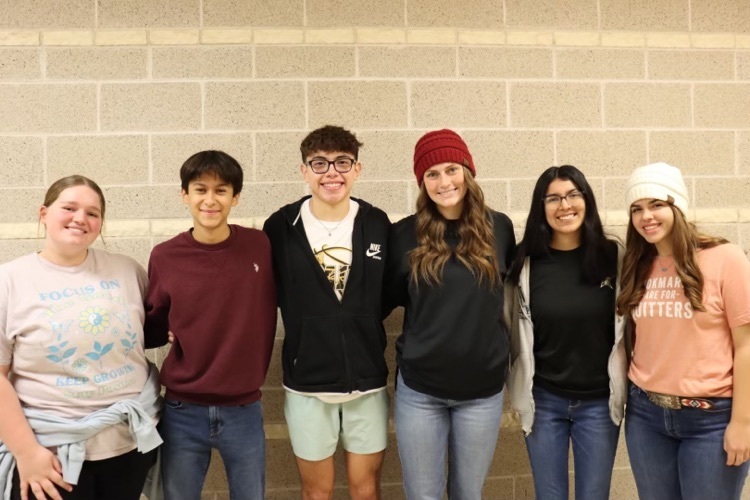 The November Student of the Month is Analysa Gomez. She is the junior daughter of Venessa Gomez and Jesus Gomez, Jr. Analysa in very involved in extracurricular activities, playing volleyball and basketball, and she is a member of Fellowship of Christian Athletes and Student Council. When not at school, Analysa loves to spend time with family and friends. Her future plans are to pursue a career in the medical field. Analysa is a good student, and one of her teachers said that "I have been impressed with how much effort she has put into her assignments and how much she pays attention to detail. Her work is not just correct, but it is also neat and well-organized." We are proud of Analysa's hard work and efforts, and we are proud to announce her as our Student of the Month for November!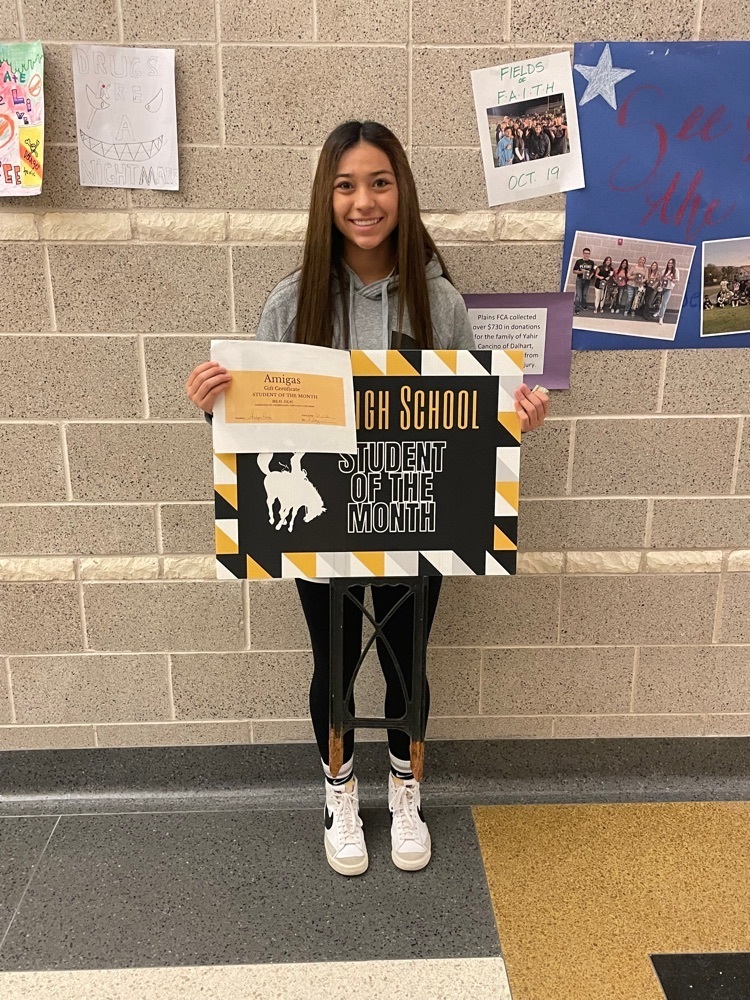 8th graders in the Plains Cowboy Band audition for All Region Band this past Saturday, along with over 800 students from schools around the region. We hand 4 Students ranked high enough to be part of an All Region Band. Qualifying for the Symphonic Band: Ivette Magana on Clarinet, 2nd place Maggie Moore on Flute, 4th place Fernando Castillo on Baritione, 7th place. Qualifying for the Concert Band: Bella Martinez on Clarinet, 28th Place. And Oscar Nava came in as 1st alternate on Horn, 13th place. Congratulations to these students. #plainsproud

Cowboy Band Christmas Concert Thursday, December 8th at 5:30 pm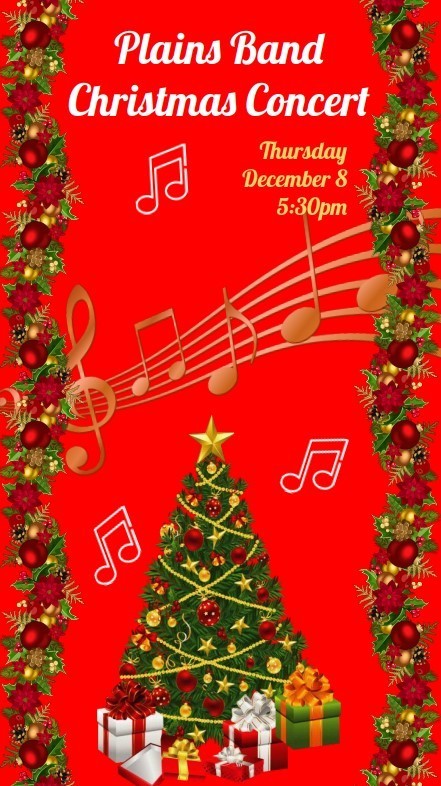 Denver City Tournament Update: JV Girls defeat Midland Classical 25-11. #PLAINS PROUD #TPW

Game times for Saturday (12/3): JV Girls - 2pm at Denver City Tournament Varsity Girls - 6 pm Varsity Boys - 7:30 pm At the Whiteface Tournament .

Denver City Tournament Update: JV Boys fall to Andrews 38 - 17. #PLAINS PROUD # TPW

Denver City Tournament Update: JV Girls fall to Midland Legacy 51 - 12. #PLAINS PROUD #TPW

Denver City Tournament Update: JV Boys defeat Littlefield 42-21. Will play Andrews at 6:30 pm tonight. #PLAINS PROUD #TPW

Whiteface Tournament Update: Cowboys defeat Hale Center 55 - 45. #PLAINS PROUD #TPW

Whiteface Tournament Update: Cowgirls defeat Hale Center 49 - 46. #PLAINS PROUD #TPW

Denver City Tournament Update: JV Girls drop game 2 to Sundown 44 - 19. #PLAINS PROUD #TPW

Whiteface Tournament Update: Varsity boys beat Silverton 57 - 49. #PLAINS PROUD #TPW

Whiteface Tournament update: Varsity Girls beat Silverton 41-25. #PLAINS PROUD #TPW

Denver City Tournament Update: JV girls defeat Andrews 32 13. #PLAINS PROUD #TPW

Whiteface Tournament update: Varsity Boys beat Springlake - Earth 64-46. #PLAINS PROUD #TPW