Nate and Crystal Clairday and Doug from ER Operating making a $1,000 donation to Plains ISD to help support the Cowboy/Cowgirl Compliment program! Thank you Nate, Crystal, and Doug!! #PlainsProud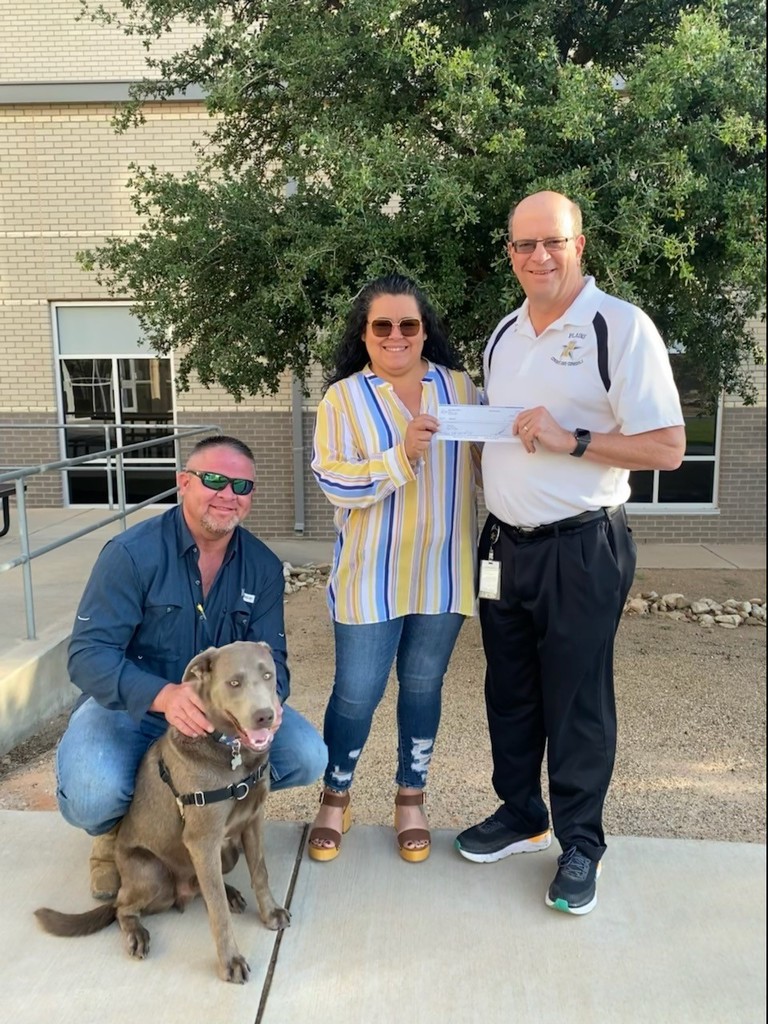 Thank you to our District Clerk, Sandra Robles, for helping purchase all 5th & 6th grade track shirts.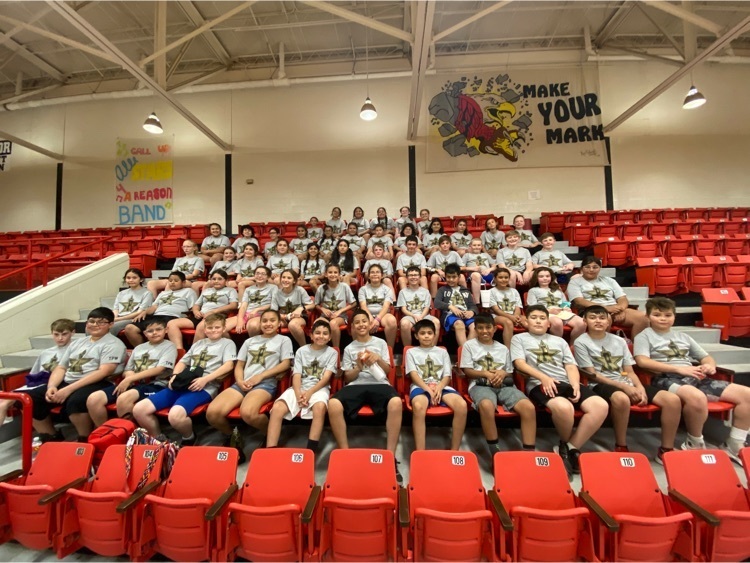 Athletic physicals will be May 18&19 HS will be on the 18th. JH on the 19th. They will be given in the Arena starting at 1:30 pm. Kids have been given packets to fill out and return to us. Price will be $10. Any questions contact Coach Welch at 456-7401 ext 1291.
Very proud of the boys for the way they competed at the State Track Meet. WE WILL BE BACK NEXT YEAR! #TPW #ANEWTRADITION #PLAINSPROUD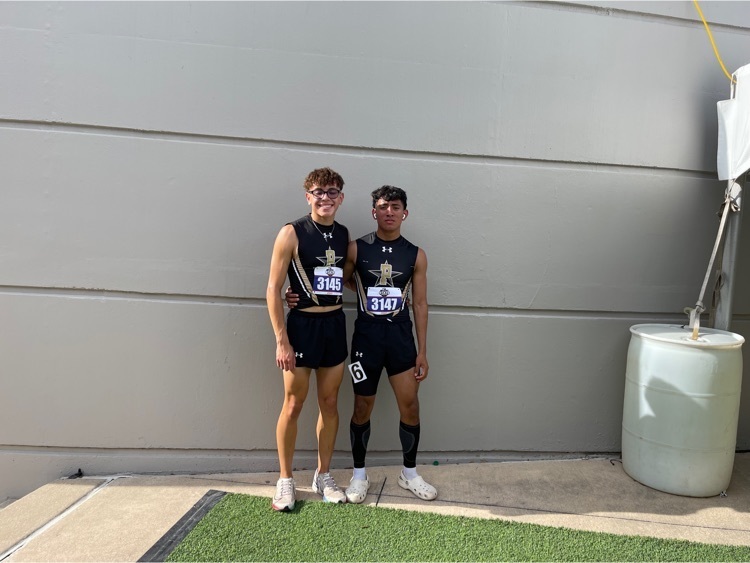 Cowboys placed 8th with a time of. 3:30.13. Way to represent boys! Congratulations! #plainsproud

Congratulations to Jhoan and Roque. Jhoan placed 6th and Roque placed 7th! #plainsproud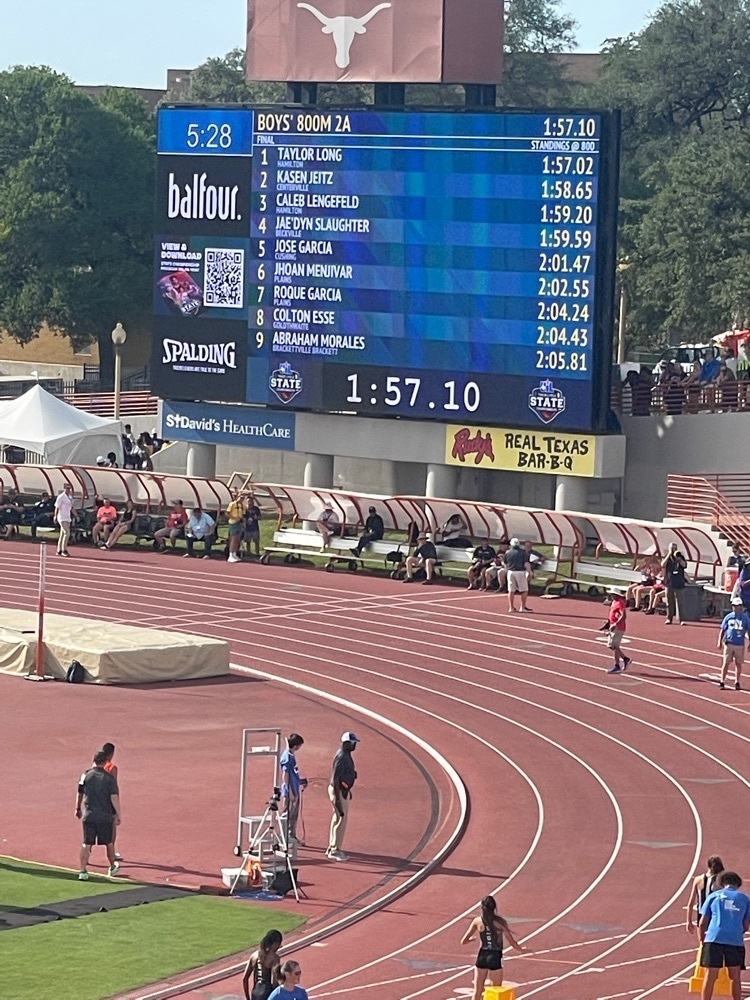 Good luck to these young men as they Compete at the State Track Meet today. #TPW #PLAINSPROUD

Our State track qualifiers warming up for their events. Races start at 5pm. #plainsproud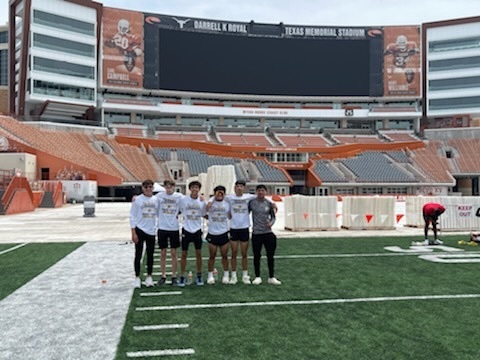 Plains ISD would like to congratulate Libby Bell. She is our 2021-2022 8th grade valedictorian. #plainsproud Libby Bell is the 2021-2022 8th Grade Valedictorian. She is the daughter of Joshua and Lexi Bell. She is a member of the First Baptist Church. Throughout junior high school, Libby was involved in many extracurricular activities. She competed in UIL events every fall semester, placing first in Oral Reading in both 7th and 8th grade, second in Ready Writing and 3rd in Editorial Writing. One of Libby's biggest accomplishments this year was being a member of the District winning One Act Play performance titled "Oz". She won the Best Performer Award for her portrayal of Beth. Libby was a junior high cheerleader for 7th and 8th grade. This past year, she was honored to serve as cheer captain. Libby was also involved in volleyball, basketball, track, and tennis. In tennis, her doubles team placed 3rd, and she received 5th place at District in the discus. Libby is looking forward to attending Plains High School next year and the exciting adventures that await her as she continues her education.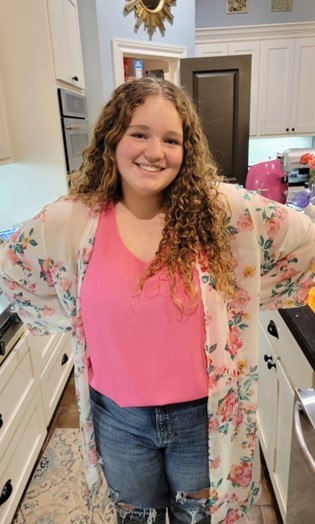 Miguel Enriquez was nominated for a Cowboy Compliment! His nominator says, "Miguel helped the OAP dept. We were looking for a specific prop before contest, and when he heard that we needed it, he immediately went home, loaded his, and brought it to school for us to use. We really appreciated his help and willingness to let us use his personal things." Congratulations Miguel! Thanks for helping make Plains ISD a special place to be!
Cristie Gatzki received a Cowgirl Compliment today! Her nominator said, "Cristi is an asset to Plains. She is a hard worker and is always willing to do whatever is needed to help. She goes above and beyond in her job." Congratulations Mrs. Gatzki! Thanks for making Plains ISD a special place to be!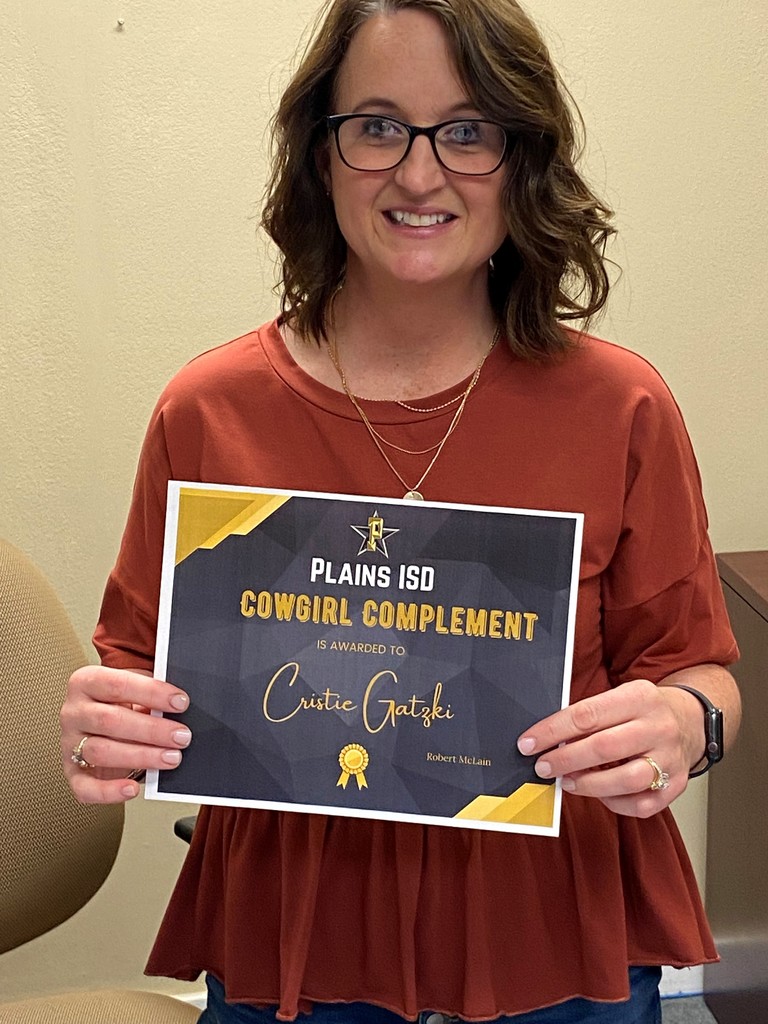 Townlii Gonzales was nominated for a Cowgirl Compliment by one of her students. The nominator said, "I have really bad panic attacks and she helps me through them . she helps me on papers that I do not get . She make sure that I have a good day even when I'm having a bad one ." Congratulations Mrs. Gonzales! Thanks for helping make Plains ISD special! #PlainsProud

JR Cheer Fundraiser Taco plate Sunday from 11-2pm $13 a ticket at Plains ISD cafeteria.

Today, 6th grade through 11th grade received a physical form. All students must have a physical if they plan on participating in marching band or athletics. Please fill out. We will conduct physicals on campus for $10 dollars on Wed May 18 for 9-11th grade and Thursday May 19 for 6th -8th grade.

Plains ISD would like to welcome Crystal Williamson to our secondary campus. She will be our new 7th and 8th grade English teacher. #plainsproud Bio My name is Crystal Williamson. I am the proud wife of Gary Williamson Jr. and mom to three beautiful daughters. While I did not grow up in Texas as an Ohio native, the sand in west Texas got in my shoes and I never want to leave. My family and I have been living in Denver City the past eight years. We have enjoyed regular visits to Plains to swim and eat at Dairy Queen. In education I am a unique overachiever that has graduated with a high school equivalency twice. I started college at the age of 36 with the sole purpose of becoming an English teacher. I attained my BA in English from the University of Phoenix and am currently working toward my Master of Arts in Education. I have worked the last three years in Denver City ISD. Two of those years in SPED and one teaching sixth-grade English. I look forward to being part of the amazing team here in Plains ISD!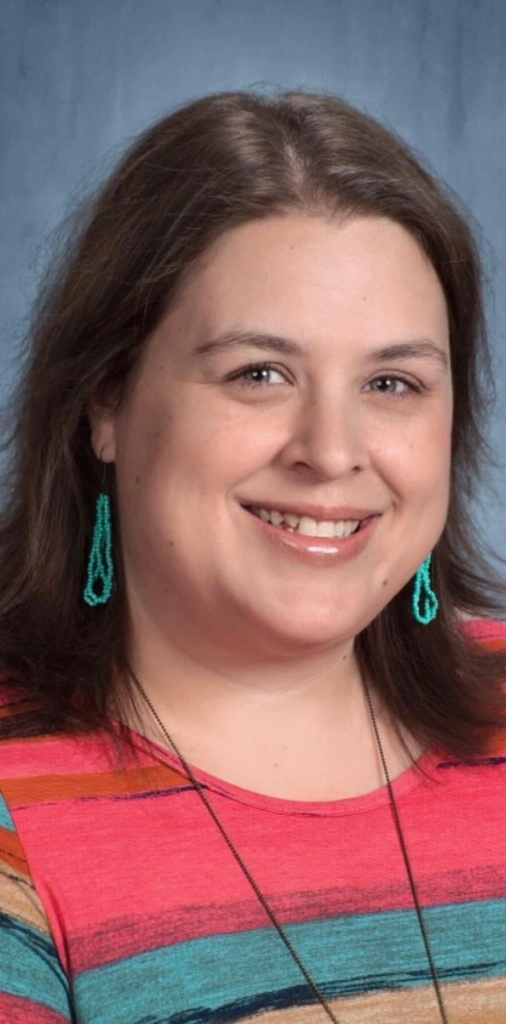 Plains ISD would like to introduce our new head boys basketball coach, Jordan Elam to Plains. #plainsproud Bio: I am Jordan Elam. I have been married to my wife, Reagan, for seven years, and we have a four-year-old son named Beckett. I went to high school in Denver City, graduated from Texas Tech University with my bachelor's degree in History, and subsequently earned my master's degree in Secondary Education from Lubbock Christian University. While at LCU, I was able to begin my coaching career by assisting the men's basketball program as a Graduate Assistant and JV coach. Since that time, I have spent the last nine years in education with stops at Midland Legacy for a year and Levelland for the past eight years. In 2018, I was able to assume the boys' head coach position at Levelland and had been in that role for the last four seasons. During that time, I also taught US History and was the Social Studies department chair at the high school. I have been fortunate enough to experience success on the court, making the playoffs in each season, including a trip to the Regional Finals in 2019. Even so, I feel being an educator and coach is a true calling, one that I am proud to be a part of. Coming from a coaching family myself, I saw the value in this profession at an early age and have always wanted to make a positive impact in bettering the lives of young people. My family and I are beyond grateful for the opportunity we have in front us and are so excited to be joining the Plains family!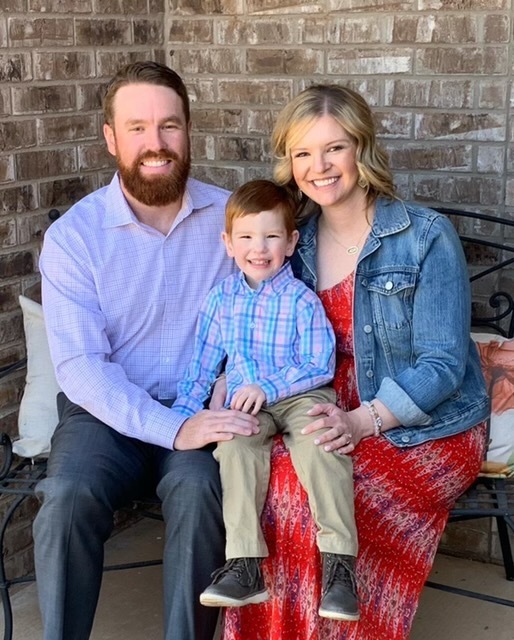 Plains ISD would like to welcome Ashley Cunningham to our secondary and coaching staff. She has been hired to be our 7th/8th Grade Science teacher and Coach JH girls athletics. Welcome to Plains! #plainsproud Bio "I grew up in west Texas, in the big ol' town of Littlefield. After graduation I continued my education and athletic career at the University of Texas of the Permian Basin in Odessa where I played basketball and softball, while studying kinesiology and mathematics. I have been all over Texas coaching multiple sports (including volleyball, basketball, softball, and track) and decided it was time to head back toward home. I have had the opportunity to teach middle school science, math, and social studies, as well as Algebra 1, Geometry, Pre-Cal and Calculus. I will be moving to Plains from Brady ISD in the "Heart of Texas", where I taught 7th grade science and coached volleyball, basketball, and softball. I look forward to moving back to west Texas and joining the Plains ISD family."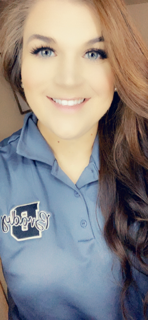 The Plains ISD Board of Trustees election finished today. Congratulations to Brandi Lopez on her election in place 2 and Stacy Franklin who ran unopposed.
Due to an election calendar requirement, the May School Board Meeting has been moved to Tuesday, May 10th at 6:00 p.m.

Good Luck to our UIL Academic teams as the compete in Austin, Friday and Saturday at the UIL Academic State Meet! #plainsproud #gocowboysandcowgirls #statebound